Atom's Bio
Influences
In case you think Atom amassed all his information in dusty old libraries and book stores, he attended numerous lectures and/or workshops and/or just plain hung out with many mentors, instructors, and trainers, including …
Adano Ley (Swami Nitty-Gritty)
Adnan Sarhan
Alberto Aguas
Ammaji (Mata Amritanandamayi)
Anke-Maria Nowicki
Arthur Granville
Arthur M. Young
Bill Schutz
Bob Hohenberger
Bonnie Prudden
Carol Huffstickler
Christina Ponsot
Dadaji (Amiya Roy Chowdhury)
David Hudson
Dawn Sampson
Dennis Johnson
Don Lenert
Dr. Andrew Wyle
Dr. Bernard Jensen
Dr. Charles T. Tart
Dr. Deepak Chopra
Dr. Gary Young
Dr. George Goodheart
Dr. Jan Zieren (Dr. Z)
Dr. John Thies
Dr. J.E. Phillips, D.D.S.
Dr. J.M. Sanchez-Perez
Dr. Joel Rauch
Dr. John Lilly
Dr. Lakheeshwar Ram
Dr. Lawrence LeShan
Dr. Marcia Cotton
Dr. Margaret Berry
Dr. Marvin Farber
Dr. Merrill Roy
Dr. Paul H. Stuetzer
Dr. Ramon Solis
Dr. Richard Alpert (Ram Dass)
Dr. Robert Wright
Dr. Ruth Thacker Fry
Dr. Sam Keen
Dr. Sandhya Gouger
Dr. Sheldon Deal
Dr. Stanley Krippner
Dr. Steven O. Shiver
Dr. Walter "Buzz" O'Connell
Dunya (Dianne McPherson)
Ed St. Pierre (Street Wizard)
George Wellington Adams
George Woyames
Greg Whiteley
G. Patrick Flanagan
Gurinder Singh
Guru Maharaj
Gyan Swami
Gypsy Boots (Robert Bootzin)
Henry Belk
Jack Hebert
Jayne E. Brown
Jerry Burkes
Jimmy Girouard
John Hede (Ursa Shaman)
John Rankin
Joy Marie Vanderbeck
Judith Aston
Kali Young
Kenneth Rexroth
Layo
Louis Russo
Maharishi Mahesh Yogi
Manny Ackerman
Marcella Vonn Harting
Mary Scovel
Master Chen (Yun Xiang Tseng)
Melissa Wolfe
Michael Mirdad
Nick Norris
Norman Cousins
Paramjit Dhaliwal Singh
Pir Viliyat Khan
Rabbi Michael Shapiro
Richard Rose
Rico Caveglia
Robert Bays
Robert Boustany
Robert Tennyson Stevens
Robin Greeley
Salvatore F. Crisanti
Sant Keshavadas
Sean Harribance
Sorai Suzanne Samm Stewart
Swami Georgios (Yogos) Antoniou
Swami Kriyananda
Swami Muktananda
Swami Nadabrahmananda
Swami Satchidananda
Thakar Singh
Uri Geller
Walter Koch
Werner Erhardt
etc.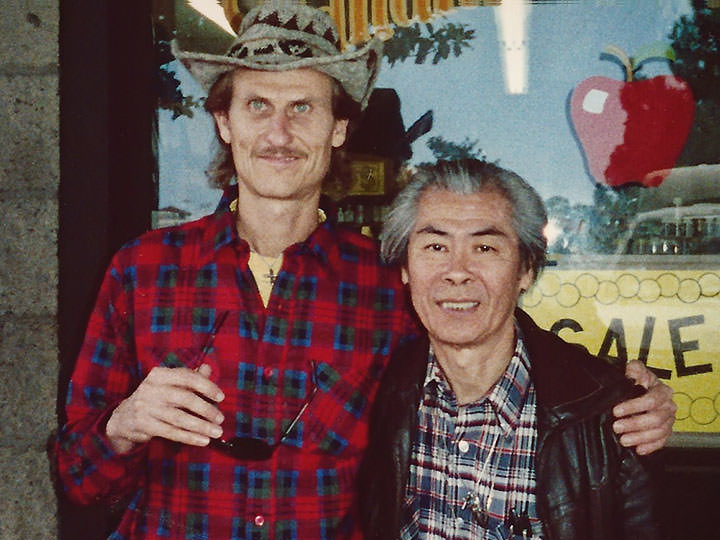 An 80ies Atom with Adano Ley (Swami Nitty-Gritty)
Life Experience
Prior to being self-employed, Atom accumulated lots of "Life Experience" working at the following jobs (and continuing his ongoing research in his "spare time") …
A&B Cattle Company Book Store, San Diego, California
A Movable Feast Health Food Store, Houston, Texas
Aladdin Florists, Houston, Texas
Biotronics, Inc., Redding, California
The Bodhi Tree, West Hollywood, California This browser doesn't support HTML5 audio
Boston Public Library (audiovisual department), Boston, Massachusetts
Cambridge Yellow Cab, Cambridge, Massachusetts
Expanding Enterprises, Nederland, Texas
Flanagan's Liquor, San Fernando, California
General Telephone Co., San Fernando, California
Guthrie (Safeway) Bakery, Sepulveda, California
Healing Arts Chiropractic Clinic (colonic therapist), Houston, Texas
Healthway (store manager), Portland, Oregon
I Am Curious Book Store, San Diego, California
Infrared Industries, Carpinteria, California
Integrated Health Services, La Jolla, California
Kilovac, Carpinteria, California
KJAC-TV, Port Arthur, Texas
Litton Industries, Inc., Lee's Lake, Woodland Hills & Canoga Park, California
Omni-TV, Hollywood, California
Pacific Drive-In Theaters, Van Nuys, California
Papaya's Natural Foods, Kapaa, Hawaii
Phoenix Metaphysical Book Store (store manager), Houston, Texas
Radio Shack, Houston, Texas
R&B Men's Wear, Pacoima, California
Red & White Taxi, West Hollywood, California
Reese Coffee Houses, Denver, Colorado
Republican Press, Hamilton, Ohio
San Diego Civic Light Opera (parking attendant & sign artist), San Diego, California
Santa Barbara Taxi, Santa Barbara, California
Scandia Health Foods (store manager), Carpinteria, California
Scofield Rug Plant, Reseda, California
Sears, Port Arthur, Texas
Sears, San Fernando, California
Shakey's Pizza, Port Arthur, Texas
South Texas Clubs, Nederland, Texas
Stagecoach Liquor, Granada Hills, California
Texas Educational Aids, Houston, Texas
Thrifty Drug Stores, San Fernando, California
Thrifty Drug Stores, Studio City, California
University of St. Thomas (adult ed teacher), Houston, Texas
Valley Cab, Santa Barbara, California
Valley Checker Cab, Van Nuys, California
Valley Limousine, Santa Barbara, California
Vita-Foods (store manager), Austin, Texas
Vons Supermarket, Thousand Oaks, California
W.T. Grant, Denver, Colorado
Walman Optical, Sioux City, Iowa
White Front Stores, Pacoima, California
etc.
"And he mounted his horse and rode off in all directions."