"Yes, No, Maybe"
The "Bible" of Solar Science…!
"The timing of the daily events of your life is the proof that
Creative Consciousness is directing your existence."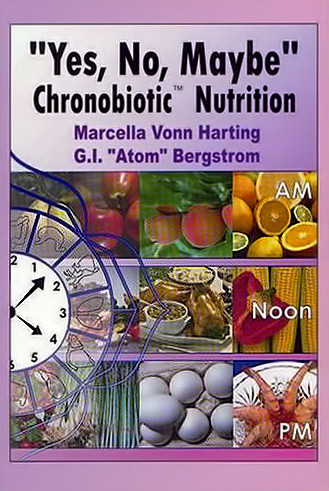 273 pages soft back book
(no e-book version at this time)
Finally! A Di-et that's really a Live-it. You are WHEN you eat.
No more need to hack or bullet proof your body when you eat ON TIME. Would you drive a car that's out of time? Why live in a body that's out of time? You can read thousands of books about WHAT to eat, but only a select few tell you WHEN to eat WHAT and WHY.
Also, you'll learn how to double up on calories and STILL lose weight, how and why to eat colorful foods, and the significance of each color. The Color Rays are more important than the Calories. This book is the perfect guide for eating on time.
To receive a signed book from Atom Bergstrom …
Domestic orders:
PayPal, credit/debit card or ZELLE: atom@solartiming.com
in the amount of $35.00 USD.
---
International orders (including Canada):
PayPal or credit card in the amount of $80.00 USD.
Before making payment, please check with your country of destination if it accepts shipments from USA.
---
Atom Bergstrom L.E.D.
1482 E. Valley Rd. #325
Santa Barbara, CA 93108
atom@solartiming.com
"The book, "Yes, No, Maybe" Chronobiotic Nutrition, has identified the hidden key of chronobiotics, which was previously unrecognized and which accelerates healing and good health. The book clearly defines the unique factor of time as it relates to the human body and the rhythm of the planet earth. This phenomenon may truly be the hidden link. It is a must read for anyone who would choose a healthy lifestyle." Terry Shepherd Friedmann, MD, A.B.H.M., One of 25 pioneers in Holistic Medicine.
"Yes, No, Maybe" Chronobiotic Nutrition details an ancient and natural plan of eating for easy assimilation and maximum utilization of foods. This new presentation of a centuries old philosophy of what to eat and when to eat it is supported by current documentation. As a medical professional for over 30 years I know the value of using natural and plant substances to enhance overall health. The timing is what has been missing from eating and diet plans. Marcella and Atom provide an easy-to-follow guide to fill in this missing piece. I find Chronobiotic Nutrition fascinating as a novel, straight-forward approach to eating for health and nutrition." Dr. Sam J. Walters, MD, N.D.
"This book will fundamentally change how I practice the art of medicine." Dr. Nancy Brandt, D.V.M., C.V.A., C.A.C.
"The contents of this book is life changing. Read, study and apply this material into your daily living habits, and you will truly have a changed life. No longer do you have to struggle with the "diets" that are short term solutions at best. Chronobiotic Nutrition is the key to unlock the door to your lifestyle change for proper function. It is precisely the "live-it" that you'll require for longevity itself. This is a must read." Dr. Kenneth Krieger, D.C., C.C.S.T.
Additionally recommended …
When the Sun Sneezes, the Earth Catches a Cold by Atom Bergstrom
This e-book explains Time Conscious Eating, mostly from the science behind Swami Nitty-Gritty's Solar Nutrition. This is not an "easy read," but it's packed with facts and instructions on how to eat "in time" according to our planet's light and magnetic 24-hour cycle. Learn how to synchronize your body to the Three Growth Zones and the Twelve Acupuncture Meridian Times (known in Asia as the Midnight-Noon Law.)
Alternatively recommended …
Sun Synchronized Nutrition Simplified by Atom Bergstrom
This e-book is a concise version of Solar Nutrition timing principles & more.